I'm in a GREAT mood!
I had an appointment with the career counselor today, and I have a Plan. She gave me some great suggestions to rework my resume into less of a "newspaper" resume and more of a "communicator" resume. I've got a great new format for my cover letter. And she gave me some good networking tips. The job search is about to truly begin!
After my appointment, I swung by Lane Bryant to look for colorful spring tops. And what did my wondering eyes spy but a 40 PERCENT OFF SALE! I picked up a great coral sweater and a pink button-down for $50. Now that's shopping!!!
Of course, I had to wear the coral sweater to work. So now I'm sitting here, looking and feeling fabulous. I still have to sit in the closet/office, but at least I look good while doing it.
Here is the Sweater of Fabulousity (it's brighter and a bit more pink in person):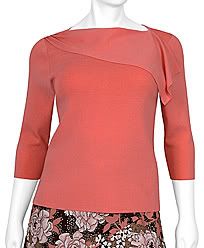 Enjoy the day, everyone!